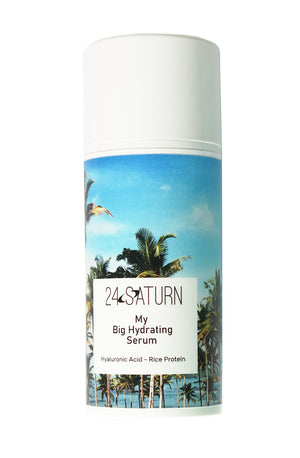 MY BIG HYDRATING SERUM
Sale price Price $42.00 Regular price
We're Dedicated To Making Really Great Skincare
Merging Nature + Science
Double the benefits with proven ingredients.
This serum will penetrate your skin to hydrate your skin cells.

Hyaluronic Acid

Replenishes the depleted hyaluronic acid within your skin, making your skin look naturally moisturized, smooth and firm.

Rice Protein

Detoxifies the skin to rejuvenate it, boosts collagen, promote cell regeneration, reduce free radicals, regains skin elasticity.
How It Works

My Big Hydrating Serum is a satisfying 100ml of skin moisturizing and detoxing to help your skin regain its moisturized look, the youthful glow and that plump firmness of young, supple skin.

Active Ingredient: Hyaluronic Acid and Rice Protein
Product Volume: 100ml
Expiration Date: 30 March 2024

Application:
Apply evenly on cleansed skin.

Ingredients:
Aqua, Sodium Hyaluronate, Carbomer, Hydrolyzed Rice Bran Protein, Glycerin, Phenoxyethanol, Ethylhexylglycerin, Triethanolamine.